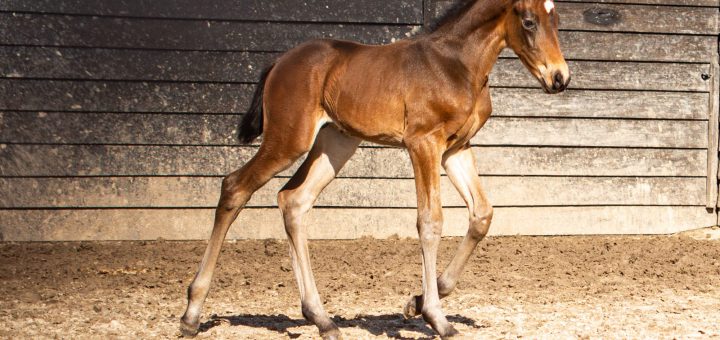 Snowfall THS, colt born in the year 2022
Pedigree: Dallas VDL x Cantos x Dutchboy x Courville mare line 154, breeding family 157 with a blood percentage of 41.99% and an inbreeding coefficient of less than 1.6%. A beautiful line with a real Groninger base in the 5th degree.
Colour: Born brown, height expected at the withers: 1.68-1.73
Predicate: VB, for the complete pedigree click here
Breeder: THS Horses – Dennis and Hilda de Hart together with Jo-ann de Hart
This mare line 154 and breeding family 157 produces horses that excel in jumping as well as in dressage, strong characters, honest and rock-solid and healthy in the foundation.
From this breeding family come the following sport horses:
Zo What Furore(v. Epilot) ISP 1.40 David Malfait
Novatas Z-springen( v.  Caritas)
RUM (Lancier) ISP 1.60 Olympiade hengst met Boris Boor voor Oostenrijk in Seoul 1988
Ivanhoe ZZL ( v. Obrecht)
Evert Z2(v. Gurioso)
Lotte Z2-dressuur(v. Faust Z)
Simply the Best ZZZ(v. Contango)
Brunni ISP 1.60(v. Le Mexico) met Peter Geerink
Inspiration ISP 1.60(v. Wellington)
T Cavalier ISP 1.40(v. Cavalier)
Damiro L ISP 1.60(v. Ramiro Z)
Royal Bravour ISP 1.60(v. Ramiro Z)
Bjussica T ISP 1.60(v. Larino)
Cupido T ISP 1.55(v. Heureka de la Loge)
Jessica T ZZ 1.35(v. Thunder v/d Zuuthoeve)
Issica T ZZ 1.35(v Thunder v/d Zuuthoeve)
Balou Z ISP 1.60(v. Balougran Z)
Eros ZZ 1.40(v. Zapatero VDL)
Charming Lady ZZ 1.45(v. Vingino)
Fijke ZZ 1.35(v. Arthos R)
Lia ISP 1.45(v. Cartier v/d Heffinck)
Variant Colours of Samber Dr NED ZZL (v. Samber)
Wang Chung M2S ISP 1.60(v. Royal Bravour)
Proud Lady ISP 1.50(v. Acobat II)
Miro ISP 1.50(v. Ramiro Z)
Sterrehof`s Voltaire ISP 1.60(v. Now or Never)
Surprise ISP 1.45(v. AcordII)
From this breeding family come the following ggk stallions:
Royal Bravour – KWPN,
Damiro L – Zang, NRPS, SF
Baldewijn – NWP
Balou Z – Zang
Wang Chung M2S – KWPN
Royal Highness – NRPS
Including the following sport horses from the direct dam line:
2th Mother
Paardnaam: KYMIDA
ZO WHAT FURORE THS (v.EPILOT ) SP INT 1.40 DAVID MALFAIT (BEL)
DIQUISEN DE LAVILLE THS, FOKMERRIE, VB, DOC-103
EVOQUE DE LAVILLE THS 2009-2016
3th Mother
Paardnaam: TYMIDA
NOVOTAS (v.CARITAS) SP NED 1.30
KYMIDA (v.DUTCHBOY) SP NED 1.20 DR NED M2
ogm FLASH POINT (v.SANDREO) DR NED Z1
ogm NYMIDUS (v.HARLEY VDL) YOUHORSE AUCTION 2021
4th Mother
Paardnaam: EMIDA
gm DERK (v.SWAP XX) DR NED Z2
gm ERIK (v.SWAP XX) DR NED ZZL
gm IVANHOE (v.OBRECHT ) DR NED ZZL
ogm MERMIDA (v.HAARLEM ) SP NED 1.30
ogm VARIANT COLOURS OF SAMBER (v.SAMBER ) DR NED ZZL
ogm VERMIDA (v.HAARLEM ) SP NED 1.30
5th Mother
Paardnaam: GONNI A
gm RUM (v.LANCIER ) SP INT GP
ogm GONNIE II (v.ZERES ) DR NED M1
ogm INFRA K (v.OBRECHT ) DR NED M1
ogm INVENTARIS (v.NOTARIS ) DR NED Z1 / SP NED 1.20
ogm KADANS K (v.FARMER ) DR NED M1