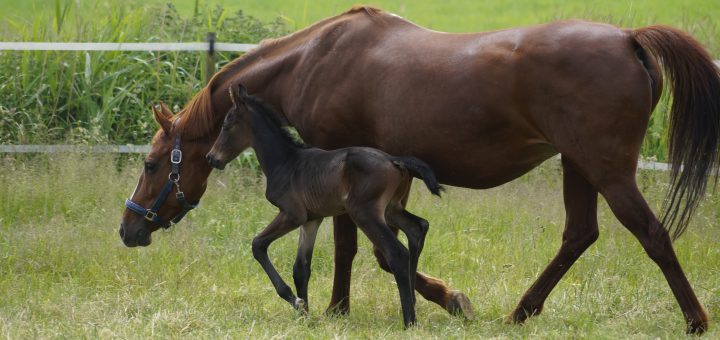 Be-Luna THS, nickname Luna a mare born in the year 2006
Pedigree: Memphis x Facet x Cabochon mare line 78, breeding family 487 a line that goes back to the well-known harness horse blood of the stallion Strateeg. Blood percentage of 34.57% and an inbreeding coefficient of 0.33%
Color: Fox, withers 15.2 H
Predicate: VB
For the complete pedigree click here
Breeder THS Horses – Dennis and Hilda de Hart
This mare line 78 and breeding family 487 delivers horses that excel in jumping as well as in Dressage, work-willing horses with a slightly sensitive character, honest and hard in the foundation.
Relatively speaking, horses from this line always grow old in good health.
This is still a very short line but one that produces beautiful horses.
The following sport horses come from this breeding family:
Top Secret ZZZ-drs (v. KARLOO)
Udo Z1-drs (v. CASCO)
Zappa ZZL-drs (v. TOLANDO)
Jasper Z-spr/1.30m Z2-drs (v. EL CORONA)
Iwenda Z2-drs (v. EL CORONA)
Templar Z2-drs (v. PERICLES XX)
Iwenda Z-spr/1.30m Z2-drs (v. CABOCHON)
Mewenda Z2-drs (v. FACET)
Oakley ZZL-drs IDP (v. FACET),
Including the following sport horses from the dam line:
1th Mother
Horsename: Mewenda

2th Mother
Horsename: Iwenda
OWENDAR (v.FACET ) DR NED ZZL
MEWENDA(v.FACET) DR NED Z2
3th Mother
Horsename: Jewenda
C (v.VANITAS ) DR NED Z2
TEMPLAR (v.PERICLES XX) DR NED Z2
gm IWENDA (v.EL CORONA ) DR NED Z2
gm JASPER (v.EL CORONA ) DR NED Z2 / SP NED 1.30
gm ZAPPA (v.TOLANDO ) DR NED ZZL