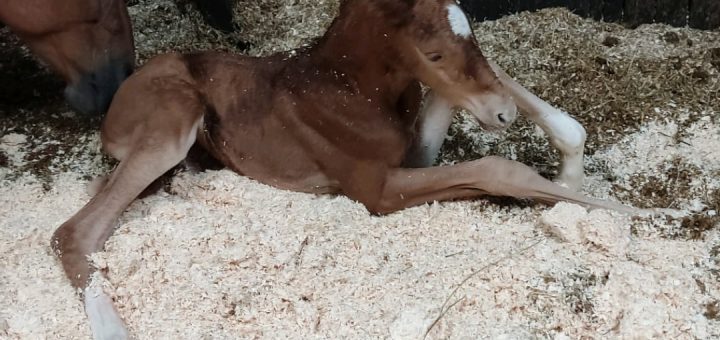 Snowstorm THS, A mare born in the year 2022.
Pedigree: Barton VDL x Chagall D&R x Florestan I x Cocktail coming out of one of the best dressage stocks in the Netherlands, the Lottie – Zottie stock Mareline 36 breeding family 300, Blood percentage 28.32% and an inbreeding coefficient of 1.28%
Color: Goldfox, expected hight 1.75 – 1.85(cm)
Predikaat: VB
For the complete pedigree click here
Breeder(s): Dennis, Hilda en Jo-ann de Hart THS Horses
From this dam line also comes the licensed stallion Sans Felice 7 (Westphalian Studbook) and the Olymiade horse San D'OR Grand Prix International, which was ridden until the year 2018 by Megan Lane (Olympic rider for Canada) and is now sold to Switzerland and ridden will be by Marcela Krinke-Susmelj and the licensed stallion Gaudi (OLDB).
This dam line goes straight back to the mares Zottie and Lottie, which have been invaluable for the Dutch showjumpers and dressage horse breeding.
Besides us as breeders of this beautiful mare, we not only see top blood in this pedigree of the dam line, but also top breeders in a row such as: President Stables(Holly THS) x Piet Crum(Verdades) x Philip Wagelaar and so on….
The following approved/licensed stallions are from this breeding family:
Including the following sport horses from the direct dam line:
1th Mother
OSAN LEANDRO THS 2019
SNOWSTORM THS 2022
2th Mother
Horsename: NN(DIDO)
IMITATOR (v. JACK SPARROW) PR.ST GEORGE RIDER: Ilse Schwarz, Owner: MACRIDER STABLES
JUNIOR (v. JACK SPARROW) DR ZZ licht PARI SPISAKOVA-TSJECHIË
HOLLY THS (v. CHAGALL) BREEDINGMARE, PROK, WFFS FREE
3th Mother
Horsename : PAVAROTTIE W
SAN D'OR (v.SANDRO HIT ) DR INT GP MEGAN LANE (CAN)
SANS FELICE 7 (v.SPIELBERG) GGH WESTF
4th Mother
Horsename : JOTTIE
GAUDI (v.GENTLEMAN) GGH OLD
ogm COTTIE W (v.QUIDAM DE REVEL ) SP INT 1.45 SIMONE WETTSTEIN (SUI)
ogm DOMINICUS-W (v.QUIDAM DE REVEL ) SP INT 1.30 ROGER MCCREA (IRL)
ogm EWOTTIE-W (v.QUIDAM DE REVEL ) SP NED 1.30
5th Mother
Horsename : UTICA
gm DICKSON (v.DAMENSTOLZ ) DR NED Z2
gm OUDEMOLEN (v.HOUSTON ) DR NED Z1
gm PYLOTTIE W (v.JAZZ ) DR NED LT
gm SYLOTTIE (v.LANCET ) DR NED Z1
gm ZOTIRCO (v.JAZZ ) DR NED Z2
ogm — (v.RHEINGAU ) DR NED Z1
ogm EMPORIO MB RS² (v.ARMANI ) DR NED LT
ogm FAYLOTTIE WP (v.JAZZ ) DR NED Z1
ogm FILOTTIE (v.FURST PICCOLO ) DR NED ZZL
ogm LAWTON (v.LAUDABILIS ) DR NED Z1
ogm SPITFIRE (v.FLEMMINGH ) DR NED Z1
6th Mother
Horsename : PORTA
NOTTIE V (v.G.RAMIRO Z ) DR NED Z2
gm CAYOTTIE (v.KRACK C ) DR NED Z1
gm KITTIE (v.NIMMERDOR ) SP NED 1.30
gm LOTTIE (v.NIMMERDOR ) SP NED 1.35
gm OKARLO (v.INDOCTRO ) SP NED 1.30
gm SITTIE (v.BEAUJOLAIS ) DR NED Z1
gm UNBELIEVABLE (v.CLINTON ) SP NED 1.35
ogm CARLOTTIE (v.CALVARO Z ) SP NED 1.30
7th Mother
Horsename : ZOTTIE
EOTTIE (v.G.RAMIRO Z ) SP NED 1.50
gm FAUNUS W (v.TANGELO XX) SP NED 1.30
gm JADALCO W (v.LADALCO ) SP NED 1.30
gm JOTTIE (v.VOLTAIRE ) DR NED Z2
gm L (v.CARITAS ) DR NED Z2
gm OTTAWA (v.JUS DE POMME ) SP INT 1.40 OTTILIA LUNDGREN (SWE)
gm ULTIMO (MAYBE FOREVER – WBF.SPR) (v.FEUERSCHEIN I ) SP INT GP
ogm ADORADO (v.INDORADO ) SP NED 1.40
ggh ogm AMADEUS (v.GUIDAM ) SP INT 1.50 KARIM ELZOGHBY (EGY)
ogm BEAU-FORT (v.MADISON ) DR NED Z1
ogm BROWN SUGAR (v.CHACCO BLUE ) SP INT 1.50 HANI KAMAL RAJI BSHARAT (JOR)
ogm CELOTTIE W (v.NUMERO UNO ) SP INT 1.40 HENDRIK-JAN SCHUTTERT (NED)
ogm DAYTONA VDM (v.INDOCTRO ) SP NED 1.30
ogm EDMONTON (v.RANCOUVER 824 NRPS ) DR NED ZZL
ogm EOTTIE T (v.VERDI ) SP NED 1.35
ogm IGON W (v.VOLTAIRE ) SP NED 1.40
ogm JACKSON (v.NATUREL ) DR NED Z1
ogm JARNO W (v.NOTARIS ) SP INT GP FILIPPO LUPIS (ITA)
ogm LOGAN'S PEAK (v.LANDADEL ) SP USA 1.40
ogm LOTTIE W. (v.NIMMERDOR ) SP INT GP
ogm MAXIM W. (v.NIMMERDOR ) SP NED 1.35
ogm OKLAHOMA II V (v.INDOCTRO ) SP NED 1.30
ogm PIKLAHOMA W (v.BURGGRAAF ) SP NED 1.35
ogm SAVANNAH V (v.JULIO MARINER XX) SP NED 1.30
ogm SPRINGTIME (v.INDORADO ) SP INT GP SAER COULTER (USA)
ogm TENNESSEE W (v.CONCORDE ) SP INT GP HENK VAN DE POL (NED)
ogm UTAH V (v.LUX ) SP NED 1.30
ogm VADOTTIE (v.INDOCTRO ) SP NED 1.35
ogm VESPUCCI W (v.CORLAND ) SP INT 1.40 DANNY SCHAPER (NED)
ogm VIKLAHOMA W (v.GUIDAM ) DR NED Z1
ogm VISIOEN (v.NAMELUS R ) EV INT CCI3* SIAN WYNNE MORRIS (GBR)
ogm WIDAM (v.GUIDAM ) EV INT CIC1* WIESLAW BAKO (POL)
ogm ZADKINE W (v.CALVADOS ) SP INT 1.45 SOPHIE KOPPELMAN (NED)
ogm ZORADO VDM (v.INDORADO ) SP INT 1.45 SHAWN CASADY (USA)